My mum's Vietnamese sugar pork with boiled eggs and a touch of French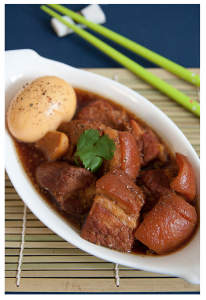 Ingredients: Serves 6 – 8
• 1 kg (2 lb): Boneless port butt or shoulder, fat removed
• 4 cloves: Garlic, peeled
• 4: Shallots, peeled
• 1 teaspoon: Whole black peppercorns
• 2 tablespoons: Oil
• 375 ml: Cold water (1 1/2 cups)
• 6: Hard-boiled eggs, peeled
• 3 tablespoons: Fish sauce
• 1/2 teaspoon: Salt
• 1 teaspoon: Five-spice powder
• 1.5 tablespoons brown sugar (For the caramel sauce)
Directions:
• Cut the meat into 2 1/2 cm (1-in) cubes and set aside.
• Pound the garlic, shallots and peppercorns with a mortar and pestle or process with a food processor until fine.
• Using a heavy stockpot, heat the oil over medium heat and sauté the garlic mixture until fragrant, about 2 minutes.
• Add the pork and cook, stirring, until the meat browns on all sides.
• Add the water, eggs, sugar, fish sauce, salt and five-spice powder and bring to the boil.
• Add the caramel sauce (see preparation bellow)
• Reduce the heat to low. Cover and simmer for 1 hour or until the pork is tender.
• Remove from the heat and serve with White rice.

Caramel sauce Directions:
• Add all the sugar to a saucepan with ¼ cup water cook until caramelized.
• Once done add to the main dish and cover