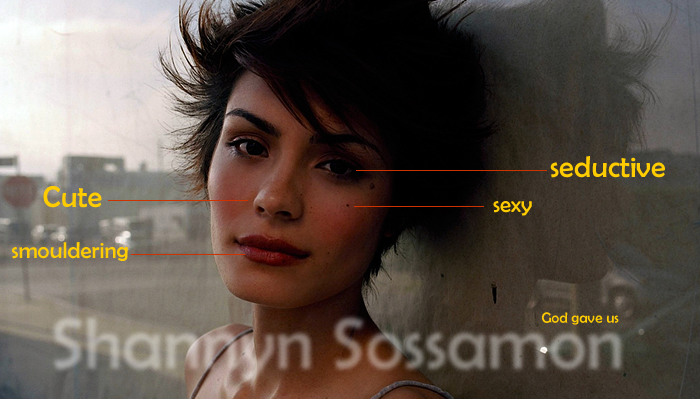 I was just thinking the other day when I saw a picture of Shannyn Sossamon. I thought that God gives us his art gallery in the form of beautiful things whether that be in art or in people. I must say that when it comes to one of Gods great creations of beauty he created Shannyn Sossamon.
She has this style that jumps out at you and makes you feel like smiling. However she is also a very good actress. She has appeared in many films and TV shows and has also been in the mick Jagger/ Lenny Kravitz video "God Gave Me Everything" which were I first saw her and wanted to know more about this woman.
Shannyn, who credits her striking looks to an eclectic mix of English, French, Hawaiian, Dutch, Irish, Filipino, and German ancestry, was born Shannon Marie Kahololani Sossamon in Honolulu, Hawaii. At the age of one, Shannyn and her family moved to a new exotic locale: Reno, Nevada. Her youth was spent at a dance studio. At 17, promptly after high school graduation, she left her small town life for a career in dance in Los Angeles.
She got distracted and started deejaying as a hobby with her then boyfriend in the local clubs around town. Paying her bills every month were her appearances in commercials. Acting was not high on the young dancer's priority list, aside from a series of commercials, not for lack of interest but for the fact that she was content with her life in L.A. as it was.
It was in 1999, when Shannyn was helping a friend D.J. at a birthday party for Gwyneth Paltrow that a new chapter began in her fairy tale life. Francine Maisler, a casting director known for such films as The Usual Suspects (1995), spotted Shannyn. Shortly thereafter Shannyn found herself with the backing of an influential Hollywood name and one very important audition… A Knight's Tale (2001).
She determined she wanted the lead role and after six call backs, beat out the competition. Admittedly, the dancer turned actress knew little of her Australian costar Heath Ledger but the two became friends during filming.
– IMDb Mini Biography By: Kimberly Hannigan
Hawaiian-born but raised in Reno, Nevada, Shannyn Sossamon left her hometown the day after graduating from Galena High School in 1995 for Los Angeles to pursue dance. Shortly thereafter, and while filling in as a DJ for a friend at party, she was spotted by casting director Francine Maisler – who introduced her to Brian Helgeland and for his film A Knight's Tale (2001).
A handful of auditions later, Sossamon was set to portray the beautiful "Lady Jocelyn" and star opposite Heath Ledger.
Most recently, she completed filming the independent features Road to Nowhere (2010), directed by Monte Hellman and Man Without a Head (2014) for director Johnny Roc.
She has appeared in Wristcutters: A Love Story (2006), with Patrick Fugit and Tom Waits, 40 Days and 40 Nights (2002) opposite Josh Hartnett, and The Rules of Attraction (2002) for director Roger Avary. Other credits include Kiss Kiss Bang Bang (2005), Life Is Hot in Cracktown (2009) and The Holiday (2006).